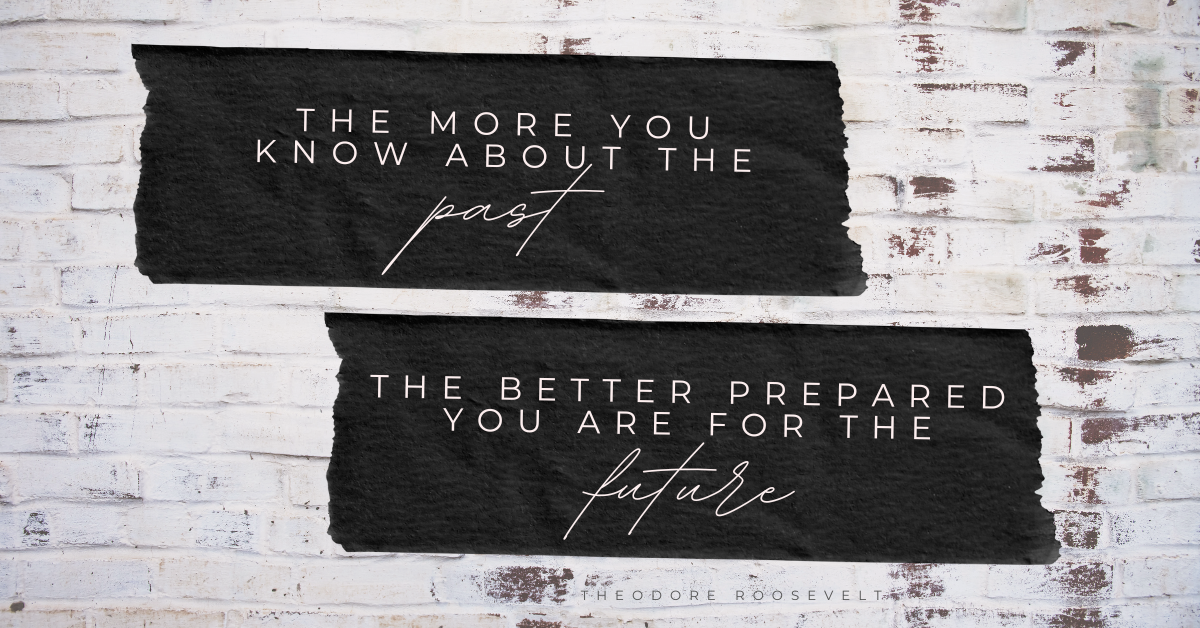 "Mom, WHY do I have to do this? History is sooo boring. Who even cares what happened 50 years ago?"
Like typical kids, mine were whining about what felt like pointless busy work. 50 years ago – that's ancient history, right? As I heard my own response, it reminded me of an important truth: history matters because we have a tendency to repeat it – especially the negative history – and it's important to learn from it instead. Theodore Roosevelt said it well, "The more you know about the past, the better prepared you are for the future."
In light of that, are you aware of the surprising similarities between 1976 and 2020? Perhaps 2020 was not as "unprecedented" as we thought.
1976
1976 was an election year with a Republican incumbent who was ultimately defeated by a Democrat. In February, a young, presumably healthy army recruit died from a swine flu virus. The narrative around his cause of death led to wide-spread fear as it was compared to the 1918 flu pandemic. Large-scale deaths were predicted. In March, the CDC director (Dr. David J. Sencer) called on President Ford to begin a mass vaccination program. Ford sunk $137 million tax payer dollars into rushing vaccine development. Concerns about the safety of the vaccines were raised and quickly dismissed. Meanwhile, Congress passed legislation indemnifying vaccine manufacturers. By early October, Americans were lining up to receive the completed vaccine. 10 weeks later, 25% of Americans had received the vaccine, which left 25 dead and over 500 with Guillain-Barre syndrome (impacts peripheral nervous system and can lead to paralysis). The deaths and serious adverse reactions resulted in the vaccination program being shut down completely. The government, embarrassed over its failure, fired the CDC director.
2020
Now compare 1976 with the story of COVID-19 we all know too well. The outbreak began in China in late 2019. Concerns in the US led to lockdowns beginning in March 2020. Fears soared as COVID-19 was compared to the 1918 flu pandemic. Operation Warp Speed quickly granted billions of tax-payer dollars to pharmaceutical companies for vaccine development. Concerns over the safety of the vaccines were raised and dismissed. Meanwhile, the PREP Act protects vaccine manufacturers by providing immunity from liability during a declared emergency. Pfizer/BioNTech and Moderna produced the first Emergency Use Authorized vaccines that were rolled out in the US on Dec. 14, 2020. Similar to 1976, many deaths and serious adverse reactions resulted from the rushed vaccines. This is where the similarities end.
Differences
Deaths from COVID-19 vaccines far exceed what we saw in 1976. There have been over 900 deaths in the first 8 weeks of COVID-19 shots (with only 13% of Americans receiving it). Yet, our vaccination program continues.
FACT: 25 deaths in 10 weeks shut down the 1976 rushed, government-funded vaccination program.
FACT: 900+ deaths in 8 weeks from a rushed, government-funded vaccination program seem to be ignored in 2021. *Update: 36,501 deaths reported as of Oct. 27, 2023 (VAERS updates every Friday). See footnote for the weekly running list.
Contrary to our government's reaction in 1976, the US seems to be doubling down on the messaging that COVID-19 vaccines are safe and greater uptake is essential in order to return to normal life. One example is this Facebook message to users.

What will you do?
Examining this history makes me wonder:
Why aren't we hearing about COVID-19 vaccine-related deaths on the news?
Why are we still being told the vaccines are safe?
Why are over 900 deaths (and counting) acceptable in 2021 when just 25 were shameful in 1976?
What has changed and how have we changed since 1976?
Like my kids, some may be tempted to say, "Who cares what happened in 1976? Things are different now." Yes, we have a different virus, but part of the response is history repeated (both our response and the government's response). The question is, what will you do about it?
---
Note: Total COVID-19 vaccine deaths reported to CDC's VAERS database in USA (updated weekly):
36,501 deaths – Oct. 27, 2023
No update – Oct. 20, 2023
No update – Oct. 13, 2023
No update – Oct. 06, 2023
36,324 deaths – Sept. 29, 2023
36,286 deaths – Sept. 22, 2023
36,231 deaths – Sept. 15, 2023
36,173 deaths – Sept. 08, 2023
36,135 deaths – Sept. 01, 2023
36,080 deaths – Aug. 25, 2023
35,980 deaths – Aug. 18, 2023
35,911 deaths – Aug. 11, 2023
35,821 deaths – Aug. 04, 2023
35,726 deaths – July 28, 2023
35,646 deaths – July 21, 2023
35,611 deaths – July 14, 2023
35,596 deaths – July 07, 2023
35,549 deaths – June 30, 2023
35,487 deaths – June 23, 2023
35,443 deaths – June 16, 2023
35,398 deaths – June 09, 2023
35,347 deaths – June 02, 2023
35,272 deaths – May 26, 2023
35,302 deaths – May 19, 2023
35,387 deaths – May 12, 2023
35,324 deaths – May 05, 2023
35,274 deaths – Apr. 28, 2023
35,219 deaths – Apr. 21, 2023
35,152 deaths – Apr. 14, 2023
35,096 deaths – Apr. 07, 2023
35,048 deaths – Mar. 31, 2023
34,965 deaths – Mar. 24, 2023
34,819 deaths – Mar. 17, 2023
34,725 deaths – Mar. 10, 2023
34,653 deaths – Mar. 03, 2023
34,576 deaths – Feb. 24, 2023
34,478 deaths – Feb. 17, 2023
34,385 deaths – Feb. 10, 2023
34,270 deaths – Feb. 03, 2023
34,122 deaths – Jan. 27, 2023
33,904 deaths – Jan. 20, 2023
33,746 deaths – Jan. 13, 2023
33,591 deaths – Jan. 06, 2023
33,469 deaths – Dec. 30, 2022
33,334 deaths – Dec. 23, 2022
33,011 deaths – Dec. 16, 2022 *This marks 2 years of COVID vaccine adverse reaction data
32,828 deaths – Dec. 9, 2022
32,621 deaths – Dec. 2, 2022
32,508 deaths – Nov. 25, 2022
32,370 deaths – Nov. 18, 2022
32,220 deaths – Nov. 11, 2022
31,961 deaths – Nov. 4, 2022
31,818 deaths – Oct. 28, 2022
31,696 deaths – Oct. 21, 2022
31,569 deaths – Oct. 14, 2022
31,470 deaths – Oct. 7, 2022
31,330 deaths – Sept. 30, 2022
31,214 deaths – Sept. 23, 2022
31,071 deaths – Sept. 16, 2022
30,935 deaths – Sept. 9, 2022
30,796 deaths – Sept. 2, 2022
30,605 deaths – Aug. 26, 2022
30,479 deaths – Aug. 19, 2022
30,347 deaths – Aug. 12, 2022
30,162 deaths – Aug. 5, 2022
29,981 deaths – July 29, 2022
29,790 deaths – July 22, 2022
29,635 deaths – July 15, 2022
29,460 deaths – July 8, 2022
29,273 deaths – July 1, 2022
29,162 deaths – June 24, 2022
29,031 deaths – June 17, 2022
28,859 deaths – June 10, 2022
28,714 deaths – June 3, 2022
28,532 deaths – May 27, 2022
28,312 deaths – May 20, 2022
28,141 deaths – May 13, 2022
27,968 deaths – May 6, 2022
27,758 deaths – Apr. 29, 2022
27,532 deaths – Apr. 22, 2022
27,349 deaths – Apr. 15, 2022
26,976 deaths – Apr. 8, 2022
26,693 deaths – Apr. 1, 2022
26,396 deaths – Mar. 25, 2022
26,059 deaths – Mar. 18, 2022
25,641 deaths – Mar. 11, 2022
25,158 deaths – Mar. 4, 2022
24,827 deaths – Feb. 25, 2022
24,402 deaths – Feb. 18, 2022
23,990 deaths – Feb. 11, 2022
23,615 deaths – Feb. 4, 2022
23,149 deaths – Jan. 28, 2022
22,607 deaths – Jan. 21, 2022
22,193 deaths – Jan. 14, 2022
21,745 deaths – Jan. 7, 2022
21,382 deaths – Dec. 31, 2021
21,002 deaths – Dec. 24, 2021
20,622 deaths – Dec. 17, 2021 *This marks 1 year of COVID vaccine adverse reaction data
20,244 deaths – Dec. 10, 2021
19,886 deaths – Dec. 3, 2021
19,532 deaths – Nov. 26, 2021
19,249 deaths – Nov. 19, 2021
18,853 deaths – Nov. 12, 2021
18,461 deaths – Nov. 5, 2021
18,078 deaths – Oct. 29, 2021
17,619 deaths – Oct. 22, 2021
17,128 deaths – Oct. 15, 2021
16,766 deaths – Oct. 8, 2021
16,310 deaths – Oct. 1, 2021
15,937 deaths – Sept. 24, 2021
15,386 deaths – Sept. 17, 2021
14,925 deaths – Sept. 10, 2021
14,506 deaths – Sept. 03, 2021
13,911 deaths – Aug. 27, 2021
13,627 deaths – Aug. 20, 2021
13,068 deaths – Aug. 13, 2021
12,791 deaths – Aug. 6, 2021
12,366 deaths – July 30
11,940 deaths – July 23, 2021
11,405 deaths – July 16, 2021
10,991 deaths – July 9, 2021
9,048 deaths – July 2, 2021
6,985 deaths – June 25, 2021
6,136 deaths – June 18, 2021
5,993 deaths – June 11, 2021
5,888 deaths – June 4, 2021
5,165 deaths – May 28, 2021
4,406 deaths – May 21, 2021
4,201 deaths – May 14, 2021
4,057 deaths – May 7, 2021
3,837 deaths – April 30, 2021
3,544 deaths – April 23, 2021
3,186 deaths – April 16, 2021
2,602 deaths – April 10, 2021
2,342 deaths – April 2, 2021
2,249 deaths – March 26, 2021
2,050 deaths – March 19, 2021
1,739 deaths – March 12, 2021
1,524 deaths – March 5, 2021
1,265 deaths – Feb. 26, 2021
1,095 deaths – Feb. 19, 2021
929 deaths – Feb. 12, 2021
653 deaths – Feb. 5, 2021
501 deaths – Jan. 29, 2021
329 deaths – Jan. 22, 2021
182 deaths – Jan. 15, 2021